MUCH WENLOCK, UK ― JUNE, 2020 ― Idonix, the premier data visualisation company have recently released a series of Chart & Graph plug-ins for Ross Video's Voyager graphics rendering solution, based on the Unreal engine from Epic Games. Voyager users can save time by using the plug-ins to quickly create their own amazing looking VR or AR charts linked to live data.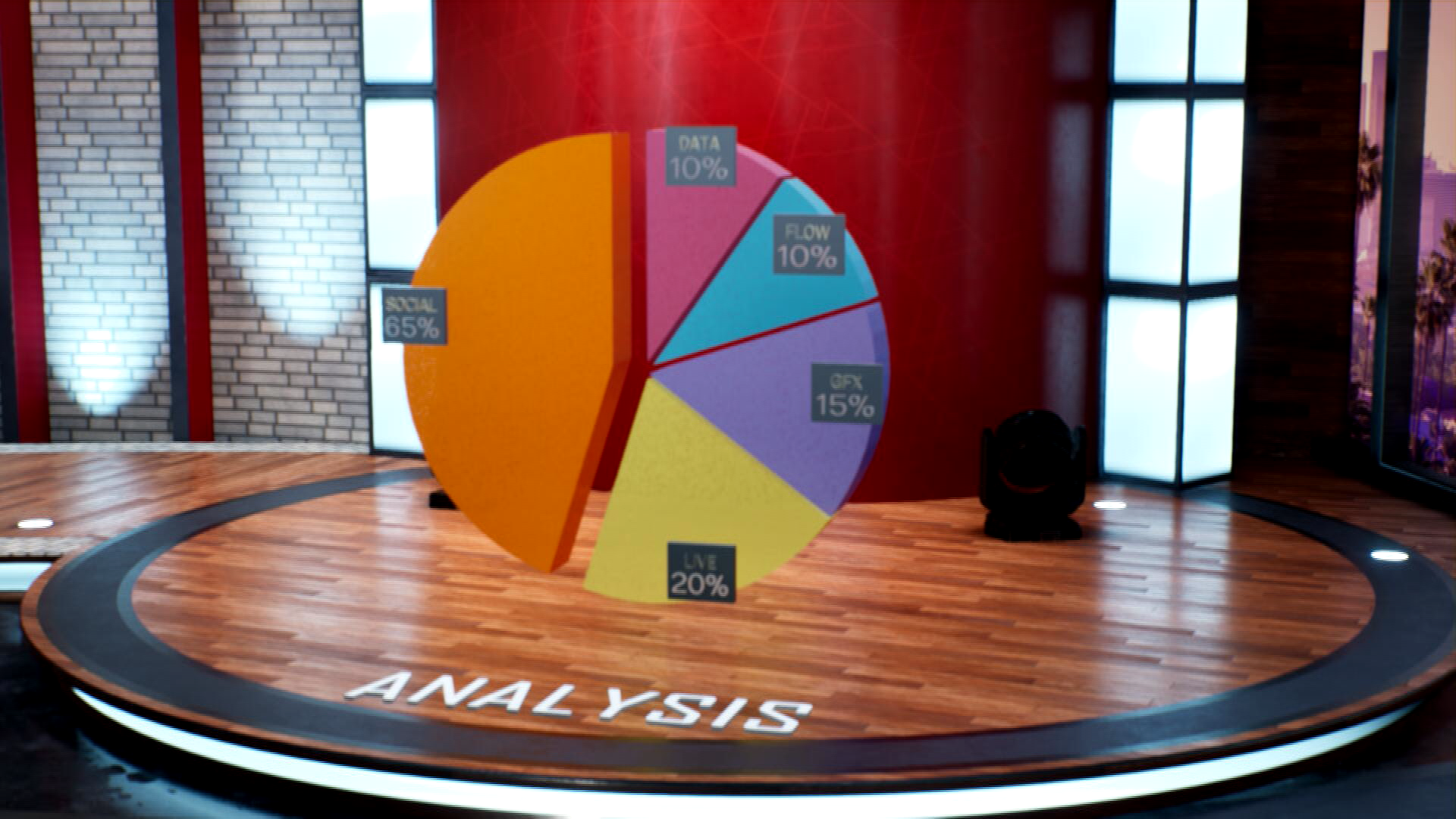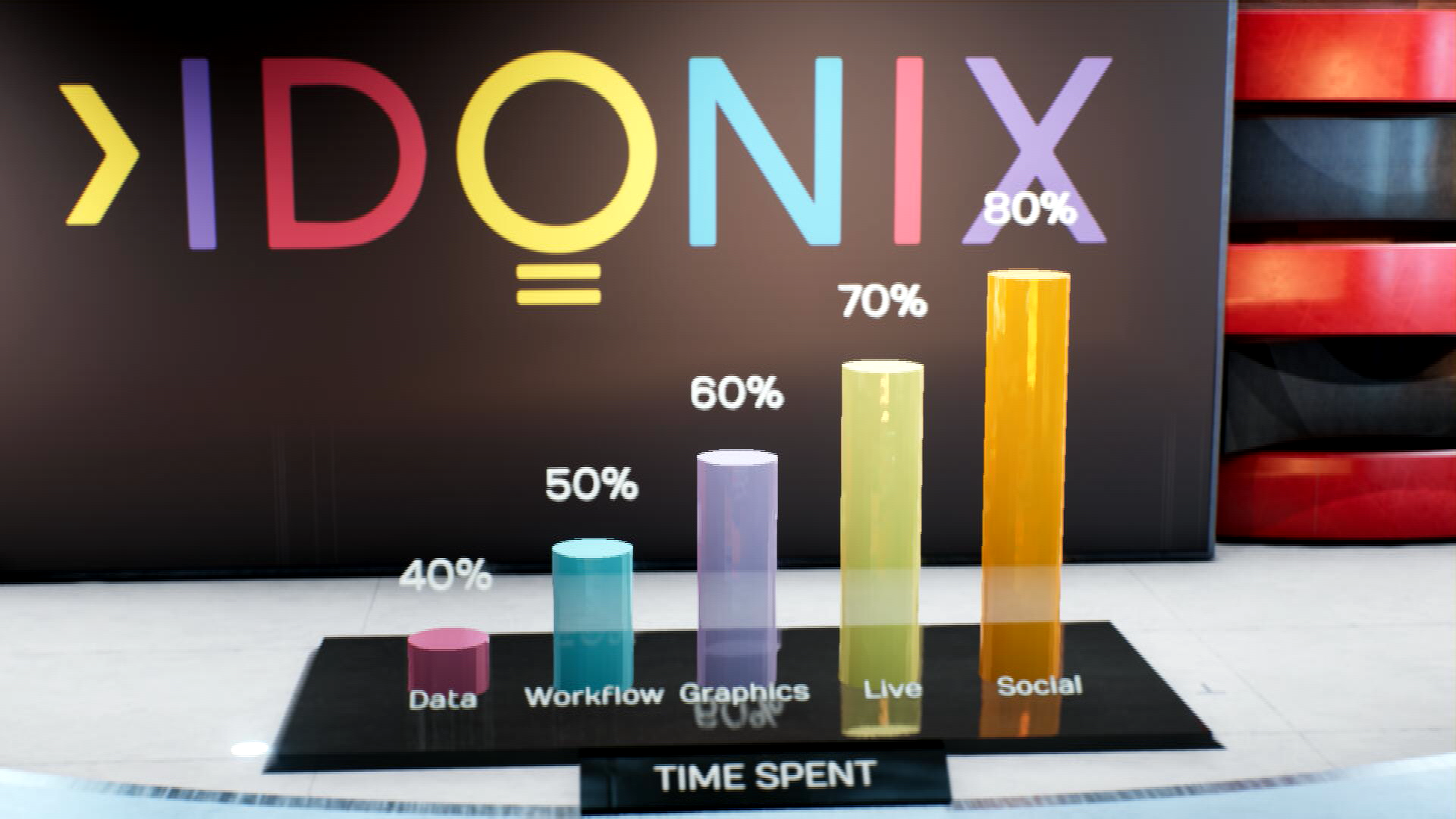 The charts can easily be dragged and dropped straight into existing Voyager virtual sets to be used as VR or AR objects in live productions and controlled from Ross Video's UX interface or from Ignition, the graphics automation platform from Idonix. The plug-ins provide Column and Pie Chart with others on the development roadmap. Data can be linked to any standard data source or manually typed in before going live and will also integrate with Datalinq. Customisation of geometry and materials allows the user to create their own dedicated look and feel.
Features include:
In, out and update animations with full control of timings

Text labels to represent data

Full control of 3D text formatting

Selectable material options

Adjustment of colour, transparency and roughness of materials

Change the title background and text
Pete Griffiths, Idonix MD said "We turn complex data into engaging stories and these plug-ins build on our years of experience working with data visualisation through over 20 years of election shows. Unreal Engine has been a game changer in production and Ross Voyager unites the power of Unreal with the Ross Video eco system. Combined with these plug-ins it makes it easy to set up data in Unreal and get on air quickly."
Gideon Ferber, Ross Video's Director of Virtual Solutions said "We've partnered with Idonix before; as data and GUI specialists they are second to none and have created flexible and easy to use plug-ins to provide a quick and effective way for our customers to drag and drop data-driven charts into the Voyager platform."
How to buy the plugins.

Idonix brings together data feeds, fluid workflows and compelling graphics, enabling producers to tell potentially complex stories in an efficient and engaging way. Ignition, their underlying automation software, makes light work of ingesting and aggregating real-time data feeds, providing focussed and intelligent workflows, and driving live and file-based graphics engines. They have been in the business of graphics automation for over 20 years, working in high status areas such as BBC elections, sport and esports. Find out more at www.idonix.com.

Ross Video – High Impact, High Efficiency Production Solutions Ross powers video productions for billions of global viewers daily with the industry's widest range of high impact, high efficiency production solutions. Ross makes it easy to create compelling news, weather and sports broadcasts, engaging material for sports stadium screens, entertainment shows and rock concerts, educational institutions, legislative assemblies, corporate applications and inspiring content for houses of worship.
Ross solutions have impressed the audiences and marketing partners of NBC Sunday Night Football, Eurosport, BBC World, Google YouTube Space London and China's esports powerhouse VSPN. Ross delivers an unrivalled range of products and services comprising virtual studios, real-time motion graphics, cameras, robotic camera systems, production switchers, video servers, infrastructure and routers, social media management, newsroom systems and mobile live events.
Idonix Media Contact
Russell Leak
Business Development Lead
russell.leak@idonix.com
+44 1952 327701