Overview
Before you proceed you should contact us for pricing information and payment terms.
Some Idonix software needs licensing (for example our Unreal Engine plugins). Our licenses are tied to your hardware, and don't require the use of dongles or internet connectivity on the machine running the licensed software.
We use a licensing platform from Wibu Systems, which will be familiar to you if you've used Vizrt or Zero Density software. Detailed instructions follow, but in a nutshell you'll need to install and run the "CodeMeter Control Center" on your target hardware, use the software to send us a license request for your chosen product(s), and in return we'll send you a license file (subject of course to payment terms).
Important: You need to generate the license files on the hardware on which you want to run our software.
Here's what to do:
Generating a License Request
---
If you don't already have the CodeMeter run-time on your target machine:
Download the CodeMeter Control Center

Install it on the target machine, accepting all the default options. Do make sure you stick with the "Install for all users of this machine" choice on the "Installation Scope" page. A couple of points of note: you'll need to run the installer with admin rights, and once installed it will run as a Windows service.
NB This needs to happen on the computer (or computers) on which you want to run the licensed software.
---
If this is the first piece of licensed Idonix software to go on the machine you'll need a "clean" license container:
Download this empty license container (Idonix.CmActContainer.WibuCmLiF) from our website

Unzip and then import the license into CodeMeter by choosing the File… Import License option, then browsing to the downloaded .WibuCmLiF file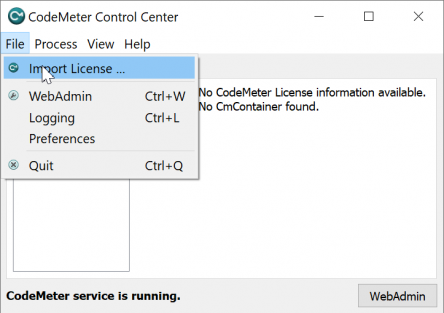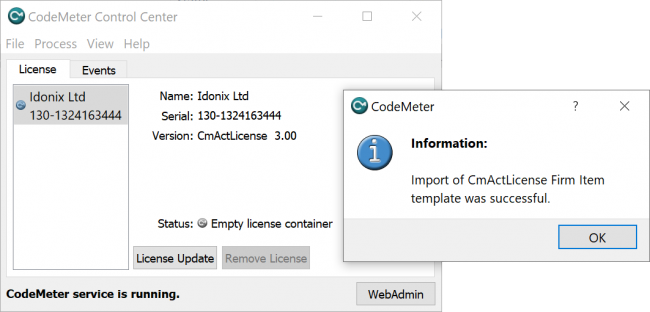 ---
Now you can generate the license request:
Select the "Idonix Ltd" license, and then hit the "License Update" button (note that you may see licenses from other vendors in the list)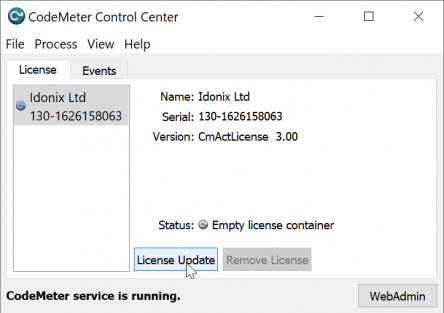 Choose the "Create license request" option, and on completion the wizard will create a "WibuCmRaC" licence request file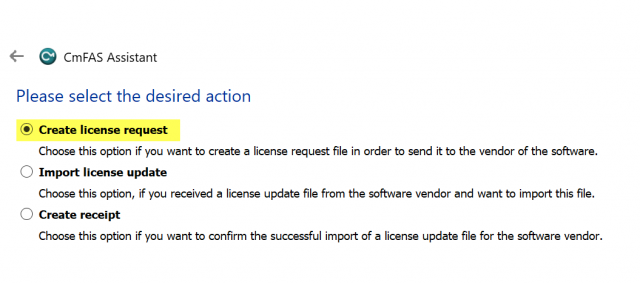 Send us the WibuCmRaC file (or files - if you want licenses for multiple machines) using this form:
Now use this form to send us your request files
Choose the "WibuCmRaC" file (or files) you created in the previous step, and select the products you want to license. Once we've sorted out the commercials we'll mail you back with corresponding "WibuCmRaU" files you can use to register your new products.
+44 (0) 1952 898488
Registering Your New License
As soon as we've processed your payment we'll email your license to you
When you receive this email you can pick up here:
Copy the emailed WibuCmRaU file to a USB stick

Goto to your target machine and open the CodeMeter Control Center

As with the "generate license request" step above, select the Idonix license and click the "Update License" button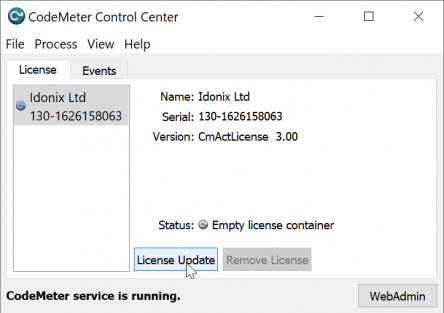 This time choose the "Import License Update" option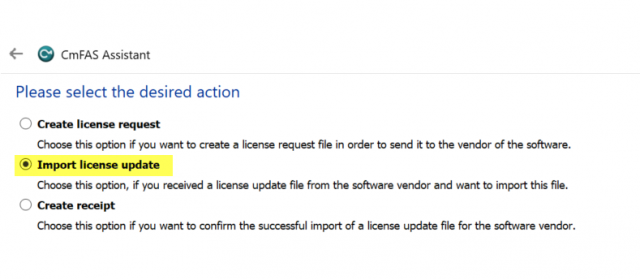 Browse to the .WibuCmRaU file (the filename should match the Idonix License Serial (in this example its 130-1626158063 - yours will be different), and hit the "Commit" button.

You should get a confirmation that all is well, but either way you can hit the "WebAdmin" button to confirm this: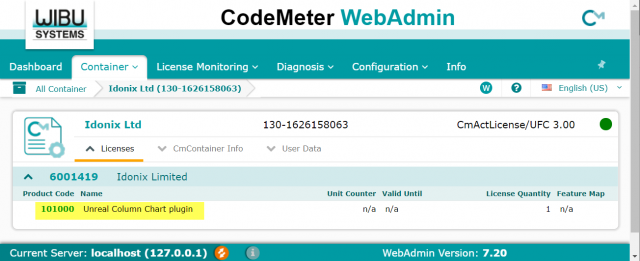 (WebAdmin is a web service running on each machine that has CodeMeter installed, and can be used to inspect license status. It can also be used to host a central license repository, but this is outside the scope of this document)