On Air Graphics Israel Use Idonix Plugins to Create Great Looking UE4 Charts
SHROPSHIRE, UK ― February 2021 ― On Air Graphics Israel (OAG) have recently partnered with Idonix to provide beautiful data driven 3D charts. Using Idonix UE Chart Plugins, OAG were able to easily add Pie, Line and Column charts to their graphics solutions. 
OAG are a services provider with over 10 years of experience in real time 3D graphics and offer custom designs in Unreal Engine. Their clients include ESPN, NDR and Avid. 
Idonix UE chart plugins allow users to build charts 20 times faster in Unreal Engine 4. They make it easy to leverage your data and present beautiful looking and accurate charts that will engage and impress audiences.  A user can drag and drop straight into Unreal and then link JSON data and animate the in, out and update animations 
Nir Maman – Co Founder & CEO, OAG, said: "It was so simple to take our News set and bring in the plugins. We could adjust the materials, fonts and animations, change titles, text annotations and then match the lighting to our set. They reduce the time to air and are a great tool to offer to our clients." 
Pete Griffiths, CEO, Idonix, said: "We are delighted that OAG have decided to use our plugins. We built them with ease of use and flexibility in mind but OAG have really made them sing and shown just how powerful they can be." 
For more information about OAG's design and build services visit www.onairg.com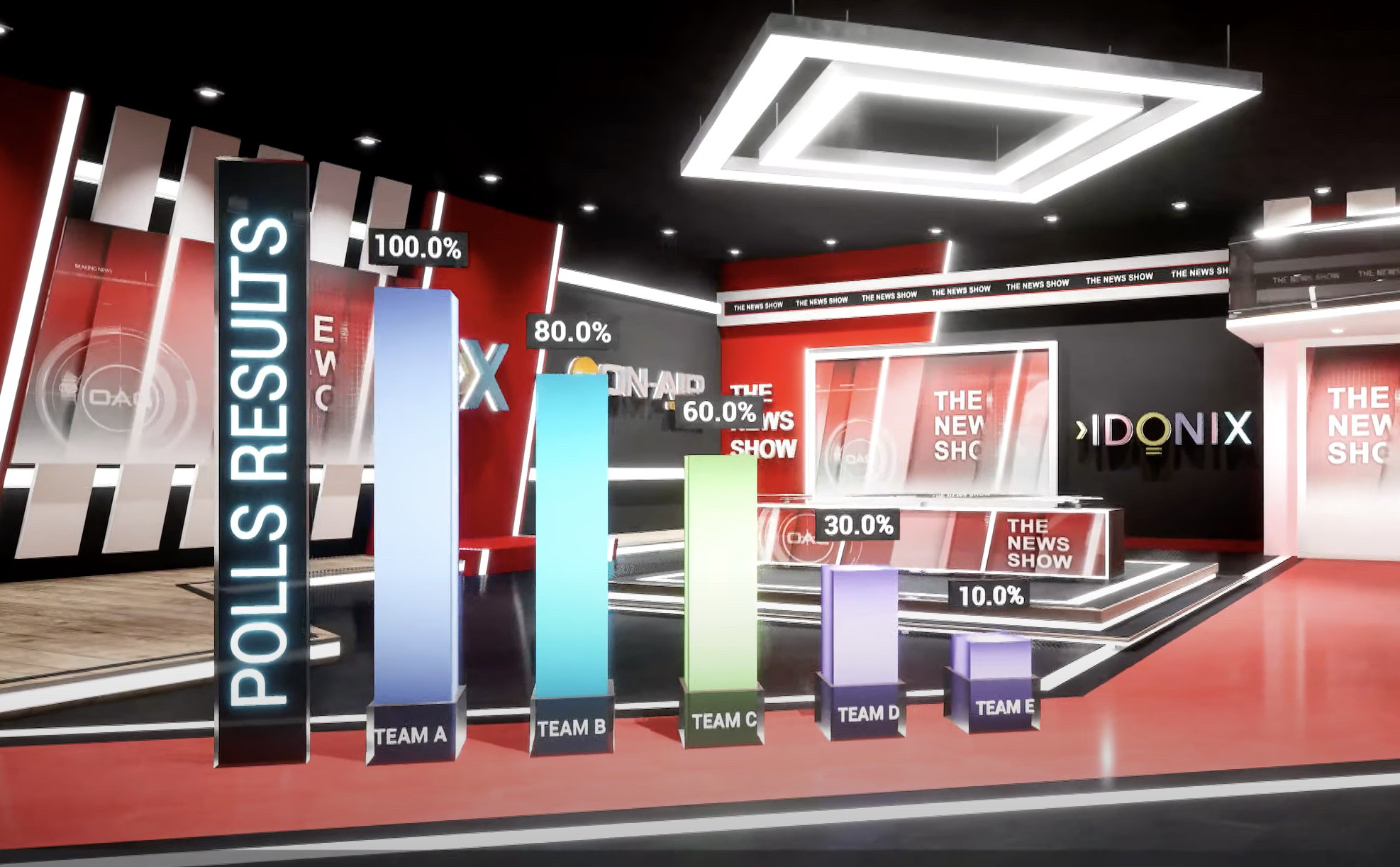 About OAG
ON-AIR GRAPHICS is a graphics design company that provides real time graphics solutions for TV and web streaming broadcasting. The company has more than ten years of experience working with many clients, from design concept to air. They specialise in developing and designing real time graphics such as virtual studios, augmented reality inside/outside studios, on-air graphics templates and interactive for broadcast systems. The professional services team provides the highest possible level of service to clients worldwide: on-site support during creation, on-air launch and follow up, for a wide variety of broadcasting events: Sports, Elections Coverage, News, Finance, Entertainment, Weather Reports and Channel Branding.  Find out more at  www.onairg.com